Driven Professionals. Quality Interactions.

Last year more than 850 professionals representing eight countries attended the Simpleview Summit to receive digital marketing training, learn best practices, and pick the brains of keynote speakers like Erik Whal and Melanie Spring. Stated simply by a previous sponsor, the Simpleview Summit encompasses two things: "Quality attendees. Quality content."
Over 57 sponsors and strategic partners from 19 organizations attended the Summit in 2018, and Simpleview ensured they were a featured part of the event. While sponsors exhibit at Summit for a variety reasons — including sales opportunities, relationship building, and knowledge about travel and tourism — there is one standout reason they return year after year; Simpleview clients hunger for professional development, efficient pipelines, and powerful tools and solutions.
At the end of the day, our partners say it best: "Something about your conference has everybody open to conversation and learning about other companies and solutions. It's great."
"We attend this event annually because it give aRes a chance to interface with current and potential clients in an environment that lends itself to casual and earnest conversations."

"[The Simpleview Summit] was the best value for the money spent for any trade show or conference that we had attended so far in 2015. We already have 22 quality leads from the event."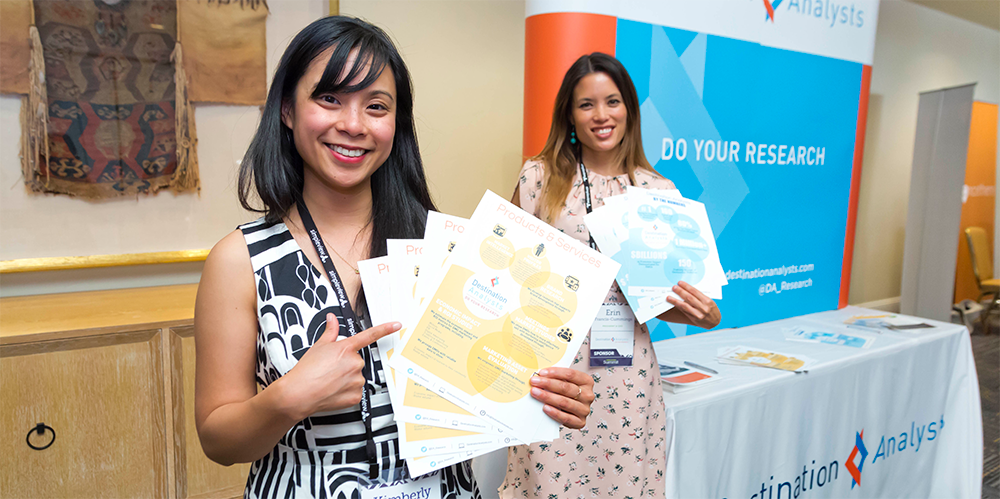 A Package for Everyone

In 2015 and 2016 combined, 94% of sponsors agreed that Simpleview Summit opportunities were of "Great" or higher quality. That's because our event strives to ensure each sponsor gets the time, recognition, and positioning they need to have a successful conference.
At the 2018 Simpleview Summit, there were a total of 39 sponsorship packages available to choose from. If you are interested in sponsoring the 14th Annual Simpleview Summit, or would like to discuss a unique, custom opportunity to engage with our clients, please contact Talicia Bosso, Director of Marketing, New Business & Events. Not only that, our event team is happy to work with you and your organization to concoct the perfect, custom opportunity to engage with our clients.
 
Let's Throw the Best Tradeshow, Together

Would you like to sponsor the next Simpleview Summit? As a sponsor of the event, you're entitled to all the great networking and educational content at the conference plus a host of other unique opportunities to reach out to our loyal and rapidly growing customer base.

Request Sponsorship Details